national rowing title holder & architect | stefanie baker-burns
Category: ArchitectureNew Zealand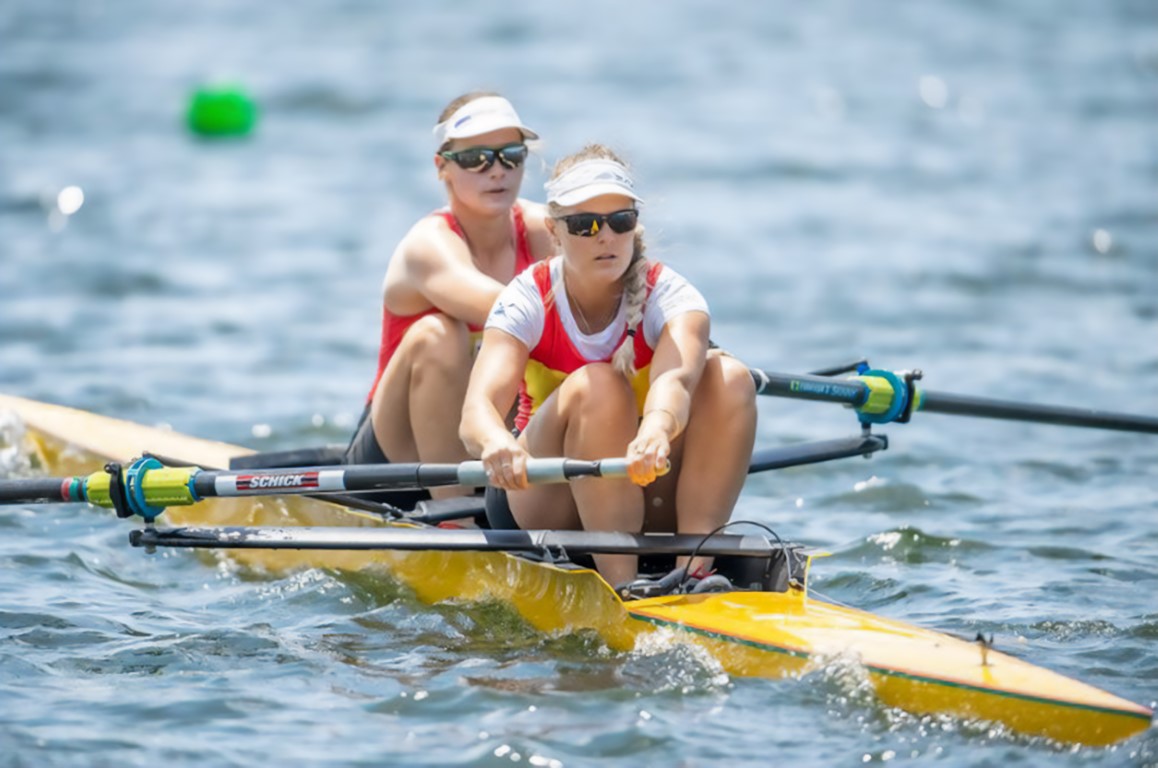 Stefanie tells us in her own words what can be gained from being a high performance athlete juggling sport and a full time career and experiencing firsthand the personal satisfaction gained from setting and achieving goals outside the workplace.
My experience in rowing has helped me develop skills and traits that translate into success in my professional life, and how these same skills and traits can benefit anyone striving for personal fulfillment and accomplishments outside of work.
I made it my goal to compete at the highest level possible and maintain a successful career.
Personal fulfillment and accomplishments are crucial for our overall well-being and happiness. These experiences provide us with a sense of purpose and meaning. They give us a reason to strive for greater success and achievement. In my rowing career, the satisfaction of achieving personal goals and accomplishing new challenges has been a powerful motivator that has kept me engaged and focused.
In my experience, sports provide us with a unique opportunity to pursue personal fulfillment and accomplishments. Whether it's running a marathon, completing a triathlon, or competing in a 2000 meter rowing race (where you might throw up a little at the end!) – sports allow us to set challenging goals and push ourselves to achieve them. For me, rowing has been an incredible source of personal fulfillment and accomplishment. By setting goals and working hard, I have developed skills such as discipline, perseverance, and resilience that have been valuable both on and off the water.
Translating skills and traits from sports to the workplace
#1 Discipline
I'd say athletes must commit to a training schedule and make sacrifices to reach their goals. For me, I trained twice a day, six days a week while working 40 hours a week. This was a commitment and a sacrifice to achieve my goals. Embedded in my character, I can now translate over to the workplace -setting and sticking to schedules, being able to stay on tasks and meeting deadlines.
#2 Teamwork
The obvious trait that most people talk about when comparing sports and work – is teamwork!
Sports requires effective teamwork to achieve success, and this same skill is essential in the workplace. Working collaboratively with others, sharing ideas, and communicating effectively can lead to better outcomes and stronger relationships. The skills and traits we develop through sports can be invaluable to an enjoyable workplace.
#3 Perseverance
It can look like setbacks and failures, but athletes and employees alike must persevere through challenges to achieve success. I found myself more fulfilled and possibly more successful, even though I did not compete for my country. On this path, I became living proof there is more than one way to achieve success.
The rowing community is very rigid and set in its ways. Typically any club or school you go to, there is a similar program and expectation from the coaches. For me, my setback was being unable to use a rowing machine and complete a 2000m ERG test. These tests have always been a crucial factor in crew selection.
Even for a 13 or 14 year old that can barely carry a boat, who's body is changing before their eyes and is trying to find out who they are, 2ks is a way of finding your champion, your top athletes, if you didn't know how to spot one on the water. So much is resting on these 2ks and it can cause an immense amount of stress, physically and mentally.
Lucky for me, I had a coach who understood that you can have an incredible 2k time, and not be able to move a boat at all. He had been in the system, and he didn't care much for 2k. He had seen athletes get chosen on their ERG score alone and underperform when it came to racing on the water. I was able to prove myself in other ways that were a more direct reflection of my abilities. But it wasn't without challenges.
Over the years, coaches, and athletes, have complained or made noise that it was unfair I didn't test like the rest. Every day, I was fighting for my seat in the top crews. Managing an injury became managing other people's insecurities. It wasn't enough that I was winning every on-water trial and training harder than anyone in the team. I had to persevere with every aspect of my training to prove myself, not just the coach but everyone in the community that you can train, and race, and win, without using a rowing machine. I became a consecutive national title holder that hasn't sat on a rowing machine in years. This is unheard of.
Ergs are still part of the elite selection criteria, but for grades below, where it is "just a sport" and you can have a career. It is slowly becoming more common for ERG tests to only be implemented for those striving for NZ teams.
The ability to persevere through difficult times, projects and obstacles can lead to successful outcomes, personal growth and a deeper bond between colleagues. While success can be subjective, I believe pushing beyond conventional limits and challenging established narratives can lead to great achievements.
For me, there's something deeply fulfilling about pursuing unconventional paths to success.
During my time rowing I have learnt how to execute most of this while performing under some pretty stressful conditions. Getting through some of the toughest sessions to achieve a common goal is something we can all relate to. I've always liked the phrase, 'get comfortable with being uncomfortable.' It is one of the biggest contributors to building character and resilience.
Being able to collaborate with others and communicate effectively while under pressure is one of the skills I have directly taken on board from years of being extremely uncomfortable.
These fit in quite nicely with our company values:
go for the exceptional
one team
stay passionate
be tenacious
take courage
have balance
Stefanie Baker-Burns (Linkedin profile) is a senior architectural design and project lead in our Christchurch office. The NZ practice is led by Enrique de Cordova, Principal and includes Pete Wynard, Senior Associate. And a very cute Border Collie, who would love to welcome you too.